Civil Engineering Lab
Name of the Lab: SURVEYING
Class: B.Tech
Year/Sem: II/I
| SL.NO | NAME OF THE EXPERIMENT | EQUIPMENT INVOLVED |
| --- | --- | --- |
| 1 | Survey of an area by chain survey (closed traverse) & Plotting | Chains, tapes, Ranging rods, cross staff, arrows, Pegs |
| 2 | Chaining across obstacles | Chains, tapes, Ranging rods, cross staff, arrows, Pegs |
| 3 | Determination of distance between two inaccessible points with compass. | Compasses and Tripods, Optical square. Pegs, Arrows, Ranging Rods |
| 4 | ?Surveying of a given area by prismatic compass (closed traverse) and plotting after adjustment. | Compasses and Tripods, Optical square. Pegs, Arrows, Ranging Rods |
| 5 | Radiation method, intersection methods by plane Table survey | Plane tables, Alidade, Plumbing fork, trough compasses, Pegs, Ranging Rods |
| 6 | Two point and three point problems in plane table survey | Plane tables, Alidade, Plumbing fork, trough compasses, Pegs, Ranging Rods |
| 7 | Traversing by plane table survey | Plane tables, Alidade, Plumbing fork, trough compasses, Pegs, Ranging Rods |
| 8 | Fly leveling (differential leveling) | Leveling instruments and leveling staves, Pegs, Ranging Rods, chain |
| 9 | An exercise of L.S and C.S and plotting | Leveling instruments and leveling staves, Pegs, Ranging Rods, chain |
| 10 | Two exercise on contouring | Leveling instruments and leveling staves, Pegs, Ranging Rods, chain |
Name of the Lab: FMHM
Class: B.Tech
Year/Sem: III/I
| SL.NO | NAME OF THE EXPERIMENT | EQUIPMENT INVOLVED |
| --- | --- | --- |
| 1 | Calibration of Venturimeter and Orifice meter | Orificemeter, venturimeter |
| 2 | Determination of coefficient of discharge for a small orfice/ mouth piece by constant head method | Orificemeter |
| 3 | Calibration of rectangular notch and triangular notch | Channel with notch |
| 4 | Determination of friction factor of a pipe | Friction factor apparatus |
| 5 | Determination of coefficient for minor losses | Friction factor apparatus |
| 6 | Verification of Bernoulli's Equation | Bernoulli's Equipment |
| 7 | Impact of Jet vanes | Impact of Jet |
| 8 | Study of hydaulic jump | Long rectangular Channel with notch |
| 9 | Performance Test on Pelton Wheel Turbine | Pelton Wheel Turbine Apparatus |
| 10 | Performance Test on Francis Turbine | Francis Turbine Apparatus |
| 11 | Performance characetristics of a single stage/ multi stage centrifugal pump | Centrifugal Pump Apparatus |
| 12 | Performance characetristics of Reciprocating Pump | Reciprocating Pump Apparatus |
Name of the Lab: STRENGHT OF MATERIALS
Class: B.Tech
Year/Sem: II/I
| SL.NO | NAME OF THE EXPERIMENT | EQUIPMENT INVOLVED |
| --- | --- | --- |
| 1 | Tension test | 1. UTM for conducting tension test on rods |
| 2 | Bending test on (Steel / Wood) Cantilever beam. | 2. Steel beam for flexure test |
| 3 | Bending test on simple support beam. | 3. Steel beam for flexure test |
| 4 | Torsion test | 4. Torsion testing machine |
| 5 | Hardness test | 5. Brinnell's / Rock well's hardness testing machine |
| 6 | Spring test | 6. Spring testing machine |
| 7 | Compression test on wood or concrete | 7. Compression testing machine |
| 8 | Impact test | 8. Izod Impact machine |
| 9 | Shear test | 9. Shear testing machine |
| 10 | Verification of Maxwell's Reciprocal theorem on beams. | 10. Beam setup for Maxwell's theorem verification. |
| 11 | Use of electrical resistance strain gauges | 11. Electrical Resistance gauges. |
| 12 | Continuous beam – deflection test. | 12. Continuous beam setup |
Name of the Lab: SURVEYING II
Class: B.Tech
Year/Sem: II/II
| SL.NO | NAME OF THE EXPERIMENT | EQUIPMENT INVOLVED |
| --- | --- | --- |
| 1 | Study of theodolite in detail - practice for measurement of horizontal and vertical angles | Theodolites and leveling staffs |
| 2 | Measurement of horizontal angles by method of repetition and reiteration | Theodolites |
| 3 | Trigonometric Leveling - Heights and distance problem (Two distance) | Total Station |
| 4 | Heights and distance using principles of tachemoetric surveying (Two Exercises) | Tacheometer |
| 5 | Curve setting - different methods (Two Exercises) | Theodolites, Chain, tape, Arroys, Pegs. |
| 6 | Setting out works for buildings & pipe lines | Tacheometer |
| 7 | Determine of area using total station | Total Station |
| 8 | Traversing using total station | Total Station |
| 9 | Contouring using total station | Total Station |
| 10 | Determination of remote height using total station | Total Station |
| 11 | State out using total station | Total Station |
| 12 | Distance, gradient, Diff, height between two inaccessible points using total stations | Total Station |
Name of the Lab: AUTO CAD
Class: B.Tech
Year/Sem: II/II
SL.NO
NAME OF THE EXPERIMENT
EQUIPMENT INVOLVED
1
1. Introduction to computer aided drafting
Computer Aided Design
Software & Systems
2
2. Softward for CAD - Introduction to different softwares
3
3. Practice exercises on CAD Software
4
4. Drawing of plans for buildings using software (a) Single stroeyed buildings (b) Multi stroyed buildings
5
5. Developing sections and elevations for (a) Single stroeyed buildings (b) Multi stroyed buildings
6
6. Detailing bof building components like Doors, Windows, Roof Trusses etc., using CAD Softwares
7
7. Exerices on development of working of builings
Name of the Lab: ENVIRONMENTAL ENGINEERING LAB
Class: B.Tech
Year/Sem: IV/I
| SL.NO | NAME OF THE EXPERIMENT | EQUIPMENT INVOLVED |
| --- | --- | --- |
| 1 | Determination of pH and turbidity | Digital meter, Beakers 50ml |
| 2 | Determination of conductivity and total dissolved solids | Digital Conductivity Meter |
| 3 | ?Determination of alkalinity/ acidity | Burette, Pipette, Conical Flask, Indicators, Titrant, Filter Paper |
| 4 | Determination of chlorides | Burette, Pipette, samples |
| 5 | Determination of Iron | Spectrophotometer, Cuvettes |
| 6 | Determination of Nitrates | Spectrophotometer, Cuvettes |
| 7 | Determination of dissolved oxygen | Burette, Pipette, Conical Flask, Indicators, Titrant, Filter Paper, |
| 8 | Determination of Optimum dose of Coagulant | Burette, Pipette, Conical Flask, Indicators, Titrant, Filter Paper, |
| 9 | Determination of chlorine Demand | Bleaching powder, mortar & pestle, Burette |
| 10 | Determination of total phosphorus | Spectrophotometer, Cuvettes |
| 11 | ?Determination of B.O.D | BOD Bottles, Burette, Pippet, Conical Flask, Indicators, Titrant, Filter Paper |
| 12 | ?Determination of C.O.D | C.O.D incubator, vials |
| 13 | Presumptive coliform test | Laminar Air flow chamber |
Name of the Lab: ENGINEERING GEOLOGY LAB
Class: B.Tech
Year/Sem: III/I
| SL.NO | NAME OF THE EXPERIMENT | EQUIPMENT INVOLVED |
| --- | --- | --- |
| 1 | Study of Physical properties and identification of minerals | Minerals |
| 2 | Meghascopic and microscopic description and identification of rocks reffered under theory | Rocks |
| 3 | Meghascopic and microscopic identification of rocks &minarals | Minerals & Rocks, Streak Plates, Knives, |
| 4 | Interpretation and drawing of sections for geolgical maps showing tilted beds, faults, etc.. | Geological Maps, Contour maps |
| 5 | Simple structural Geology Problems | Models of Structural Geology |
Name of the Lab: GEOTECHNICAL ENGINEERIG LAB
Class: B.Tech
Year/Sem: III/II
| SL.NO | NAME OF THE EXPERIMENT | EQUIPMENT INVOLVED |
| --- | --- | --- |
| 1 | Atterberg's Limits (LL & PL) | Liquid Limit, Plastic Limit Apparatus, Weighing Balance, Sieve. |
| 2 | Field density - core cutter and sand replacement method | Excavation Equipments, Core Cutter & Sand Replacement Apparatus |
| 3 | Grain size analysis | Sieves & Mechanical Shaker |
| 4 | Compaction test | Cylindrical Mould, Collar, rammer, Sieve |
| 5 | CBR Test | CBR Apparatus, Filter Paper, Sieve. |
| 6 | Consolidation Test | Consolidation Test Apparatus |
| 7 | Vane shear test | Vane Shear Test Apparatus |
| 8 | Permeability of Soil, Constant and variable held test | Constant and variable head permabilityappartues |
| 9 | Triaxial compression test | Triaxail compression test Apparatus |
| 10 | Direct shear test | Direct shear test Apparatus |
| 11 | Unconfined compression test | Unconfined compression test apparatus |
Name of the Lab: CONCRETE AND HIGHWAY MATERIALS LAB
Class: B.Tech
Year/Sem: IV/I
| SL.NO | NAME OF THE EXPERIMENT | EQUIPMENT INVOLVED |
| --- | --- | --- |
| | I. ROAD AGGREGATES | |
| 1 | Aggregate Crushing value | Compression Testing machine, Cylindrical Moulds, Tamping Rod, Sieve. |
| 2 | Agregate impact test | Agregate impact test Apparatus, Cylindrical Moulds, Tamping Rod, Sieve. |
| 3 | Specific gravity and water Absorption | Specific Gravity Bottle, Bucket. |
| 4 | Attrition test | Attrition Test Apparatus, Sieve |
| 5 | Abrasion test | Abrasion test Apparatus, Sieve. |
| 6 | Shape tests | Elongination Scale (length guage) and thickness guage |
| | II. BITUMINOUS MATERIALS | |
| 7 | ?Ductility test | Ducitlity Test Apparatus |
| 8 | Flash and fire point tests | Flash and fire point tests Apparatus |
| 9 | Softening Point Test | Softening Point Test Apparatus |
| 10 | Penetration Test | BituminPenetro Meter Operator |
| | III. CEMENT AND CONCRETES | |
| 11 | Normal Consistency of fineness of cement | Vicat Apparatus, Plunger |
| 12 | ?Initial setting time and final setting time of cement | Vicat Apparatus, Needles, Split Mould. |
| 13 | Specific gravity and soundness of cement | Specific gravity Bottle & Le- Chatlier Apparatus |
| 14 | Compressive strength of cement | Compression Testing machine |
| 15 | Workability test on concrete by compaction factor, slump and Vee-Bee | Slump Cone Apparatus & Vee-Bee Apparatus |
| 16 | Young's modulus and compressive strength of concrete | Compression Testing machine |
| 17 | Bulking of sand | Beaker, Measuring Jar |
| 18 | Non-Destructive testing on concrete (for demonstration) | Rebound Hammer |
Name of the Lab: ADVANCED CONCRETE LAB
Class: M.Tech
Year/Sem: I/I
| SL.NO | NAME OF THE EXPERIMENT | EQUIPMENT INVOLVED |
| --- | --- | --- |
| 1 | TEST ON CEMENT-Consistency, Setting times, Soundness, Compressive Strength. | Consistometer, Le-Chatelier Apparatus, CTM |
| 2 | Gradation Charts of Aggregates. | Gradation Charts |
| 3 | Bulking of fine Aggregate. | Bulking Measuring Jars |
| 4 | Aggregate Crushing and Impact Value | CTM, Impact Machine |
| 5 | Workability Tests on Fresh Self Compacting Concrete | L-Box, U-Box |
| 6 | Air Entrainment Test on Fresh Concrete. | Air Entrinment Apparatus |
| 7 | Marsh Cone Test. | Marsh cone |
| 8 | Permeability of Concrete. | Permeability of Concrete Apparatus |
| 9 | Non Destructive Testing of Concrete. | Rebound Hammer, Ultra Sonic Pulse Velocity Test |
| 10 | Accelerated Curing of Concrete. | Accelerated Curing Tank |
| 11 | Influence of W/C ratio on strength and Aggregate / Cement ratio on workability and Strength | Slump cone |
| 12 | Influence of Different Chemical Admixtures on concrete. | Chemical Admixtures |
Name of the Lab: CAD LAB
Class: M.Tech
Year/Sem: I/II
| SL.NO | NAME OF THE EXPERIMENT | EQUIPMENT INVOLVED |
| --- | --- | --- |
| 1 | Program using arrays and functions for matrix manipulation. | C program |
| 2 | Programs to draw bending moment and shear force diagrams. Using graphic in C | C program |
| 3 | Program for design of slabs. Using Excel | Excel template |
| 4 | Program for design of beams. Using Excel | Excel template |
| 5 | Program for design of column and footing using excel | Excel template |
| 6 | Analysis of truss using STAAD Pro. | Staad pro |
| 7 | Analysis of multistoreyed space frame, using STAAD Pro. | Staad pro |
| 8 | Analysis of Bridge deck slab. | Staad pro |
SURVEY LAB
It is the art of determining the relative positions of different object on the surface of the earth by measuring the horizontal distance between them and by preparing a map to any suitable scale. Thus, in this process, the measurements are taken only in the horizontal plane.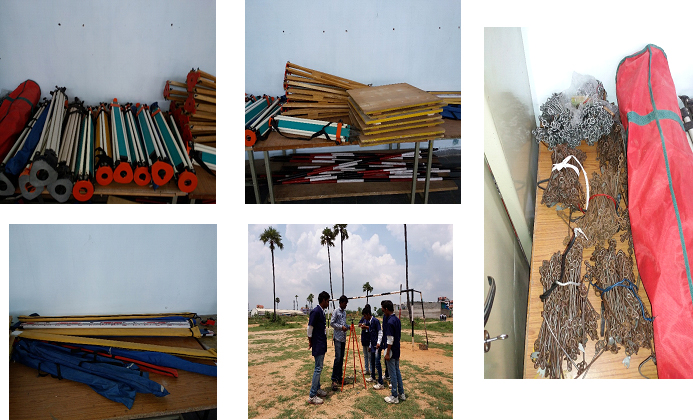 STRENGTH OF MATERIALS
Strength of materials, or mechanics of materials, is concerned with methods for finding internal forces, or stresses, and deflections/deformations.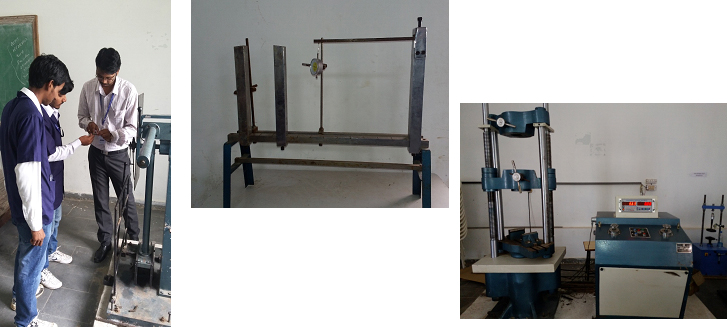 C&HM LAB
C&HM LABIn this lab study, we will test the compressive and tensile strength of concrete. The lab will focus on the workability, batch variation and the impact of the water/cement (W/C) ratio on the strength properties.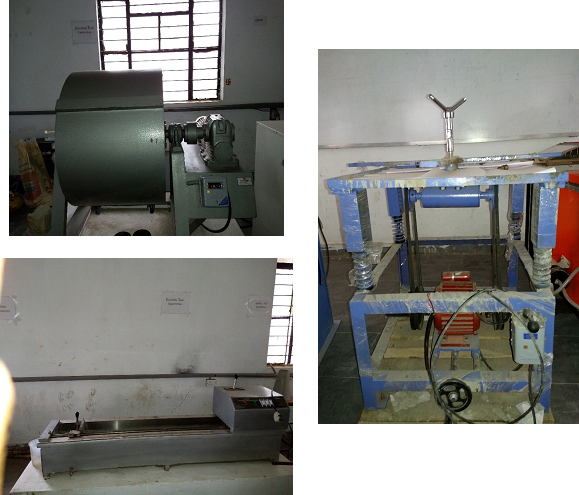 ENGINEERING GEOLOGY LAB
Geology is a Science: Greek "Geo" = Earth, "Logos" = Discourse. So geology is the science of the earth.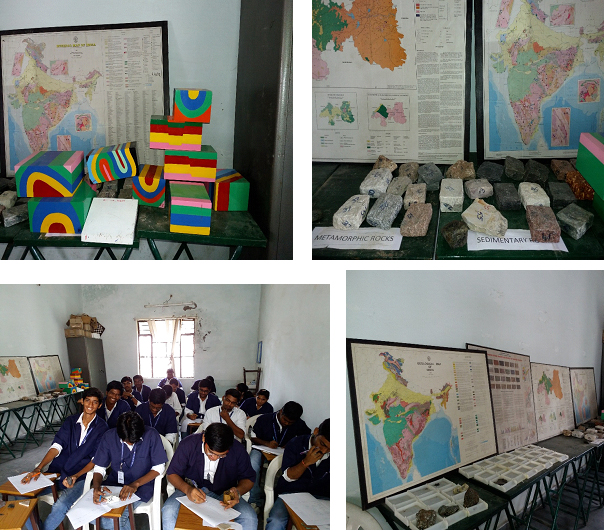 GEOTECHNICAL ENGINEERING LAB
Geotechnical Engineering is the branch of Civil Engineering concerned with the engineering behavior of Earth Materials. Geotechnical engineering is important in civil engineering, but also has applications in Military, Mining, Petroleum and other Engineering Disciplines that are concerned with construction occurring on the surface or within the ground.

ENVIRONMENTAL ENGINEERING LAB
The objective of this laboratory is to determine the qualities of water and waste water, quality of air and noise characteristics. The experiments include the determination of pH, turbidity, conductivity, and impurities in water and BOD, DO and COD of waste water and pollution level of air and noise. The highlight of this laboratory is the spectrophotometer and high volume sampler. This laboratory course will help the students to understand the theoretical concepts learned in the course environmental engineering.