Library
Introduction:
Library does not mean merely a collection of books. It is a learned institution equipped with treasure of knowledge – maintained, organized and managed by trained personnel to educate the user and assist in their self-improvement through an effective and prompt dissemination of information embodied in the resources. The Library follows Open Access System for benefit of users and with the area of 8766 q.mtrs.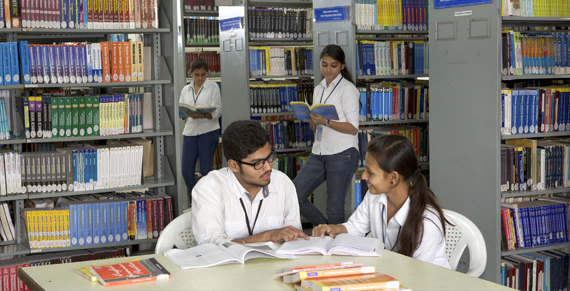 The scope of the library as an effective aid to study and educate is virtually multitudinous. There are different types of libraries, viz., Special library, Public Library and Academic Library which contribute to education in various different ways.
Library and Information Centre of Aurora's Technological and research Institute is an academic library, whose prime objective is to meet the academic needs of the engineering students for which it is created to serve.
Objective of ATRI's Library and Information Centre:
The objective of ATRI's library is to assist engineering professionals in enhancing and updating their knowledge and skills, and to provide them information regarding new innovations, views, theories, engineering education and research. The primary role of our library is to procure and organize information in engineering and allied subjects to meet the needs of users. Information and Communication Technologies are used to collect, store, retrieve and disseminate a great amount of information to help engineering professionals.
Library Automation:
1. Automation of library in house activities are carried out using NEW GEN LIB software
Library Collection:
1. Have 5350 Titles and 34200 Volumes of books pertaining to various subjects
2. Good and well maintained collection of back volumes of journals from the year 2004
3. Institutional Repositories and project reports submitted by the students
4. Exclusive collection of CDs of SONET, EMPTL and also CDs of textbooks ,eJournals-120 etc.,
5. It also receives above 2000 on-line journals through by DELNET.
Working Hours:
The Library works on all working days of the year except a few holidays of national and social importance.
Week days: 9:00 PM to 5.00 PM
Membership:
The users of our library are undergraduate students and postgraduate students of engineering in computer science, electronics, electrical, bio-technology, civil, mechanical, research scholars, and students of Masters in Management and faculty members
Borrowing Privileges:
| Category | No. of Books | Period of Loan |
| --- | --- | --- |
| UG Students | 3 | 15 Days |
| PG Students | 3 | 15 Days |
Periodical Section:
1. Subscription of International and National Journals. About 160 journals are available for reference
2. The Library receives about 200 journals, out of which 126 are Indian, 71 are received from foreign
3. Hard copy and electronic Print subscription of IEEE journals
4. E-journals package of Infotrac IESTC and IMC
5. Daily Newspapers.
Circulation Desk:
The function of the circulation section centers round issue and return of the books.
1. Single card system for the students and staff – every registered members of the library is allotted with a unique card number. Students did not carry the library cards with them. They have to tell their id number for an issue or return. The borrower's complete record over four years is known through this card. This method minimized the problem of losing cards and someone borrowing on behalf of others.
2. Three staff members are available in the section, two for undergraduate courses and one for postgraduate courses.
3. Issue of the books is for 10days and can be renewed twice for 15 days depending upon the demand for that title.
4. Current periodicals and project reports are not for issue, back volumes of journals are issued for 2 days.
Reprographic Service
There is a well - equipped Xerox facility in the Library. The users can avail of this facility on payment of nominal charges.